Plastic surgery can make a person more beautiful, but sometimes it will only do the opposite. We all know that showbiz is the hotbed of plastic surgery and celebrities give tons of money to look flawless. Still, some of them overdo it at times or they simply chose the wrong surgeon.
Either way, their plastic jobs didn't turn out quite as they expected. In their pursuit to constantly look beautiful and young, many of them lose track and get carried away while some of them become real plastic surgery addicts.
1. Michael Jackson
As you probably know, MJ passed away in 2009, but for many years prior to his death, there was a lot of controversy regarding his ever-changing looks and failed surgeries. Unlike many other male A-listers, he had innumerable surgeries and it was only a matter of time before the process became irreversible.
Although he made some outstanding music during his lifetime, the media kept bringing his cosmetic surgery back to the table. After all, we can't blame them because it was more than obvious that he went under the knife way too often. To be more precise, it is estimated that the King of Pop had a total of 6 rhinoplasties, not to mention all the other interventions, including face lifting, fillers, cheek implants, and many more.
2. Megan Fox
Megan appears to have had some cosmetic procedures on her face. Doctors suspect that she has had a nose refinement and some facial fillers. Indeed, looking at Megan a few years back, we can't help but notice that some of her facial features really look different and it's definitely not related to aging. At one point, she even posted a Facebook album where she uploaded photos of herself making all kinds of silly faces and pointing at her wrinkles. This was supposed to show us she didn't have botox in her face.
Although the actress still remains adamant in her claims that she never had any procedure, we are kind of reluctant to believe her.
3. Axl Rose
The front-man of Guns n Roses withdrew from the public eye after the band went on hiatus, only to reappear later with a completely new look that shocked most of his fans.
Rock stars are not usually the ones to undergo plastic surgery, especially not men. But, it seems Axl is an exception. Truth be told, the rumor has it that Mr. Rose is narcissus and his self-centeredness provoked many conflicts in the band. Axl didn't even bother denying the plastic surgeries because everything is more than obvious. He still has hordes of fans around the world so the alterations to his physical appearance haven't seemed to stop them from cheering him on.
We are here to present you with the good, the bad, and the ugly celebs who have gone under the knife, read on to find out who they are.
4. Donatella Versace
Donatella is known for her unwavering place at the very top of fashion designers' throne. She took over the brand after her brother Gianni was killed and has since remained at the head of it.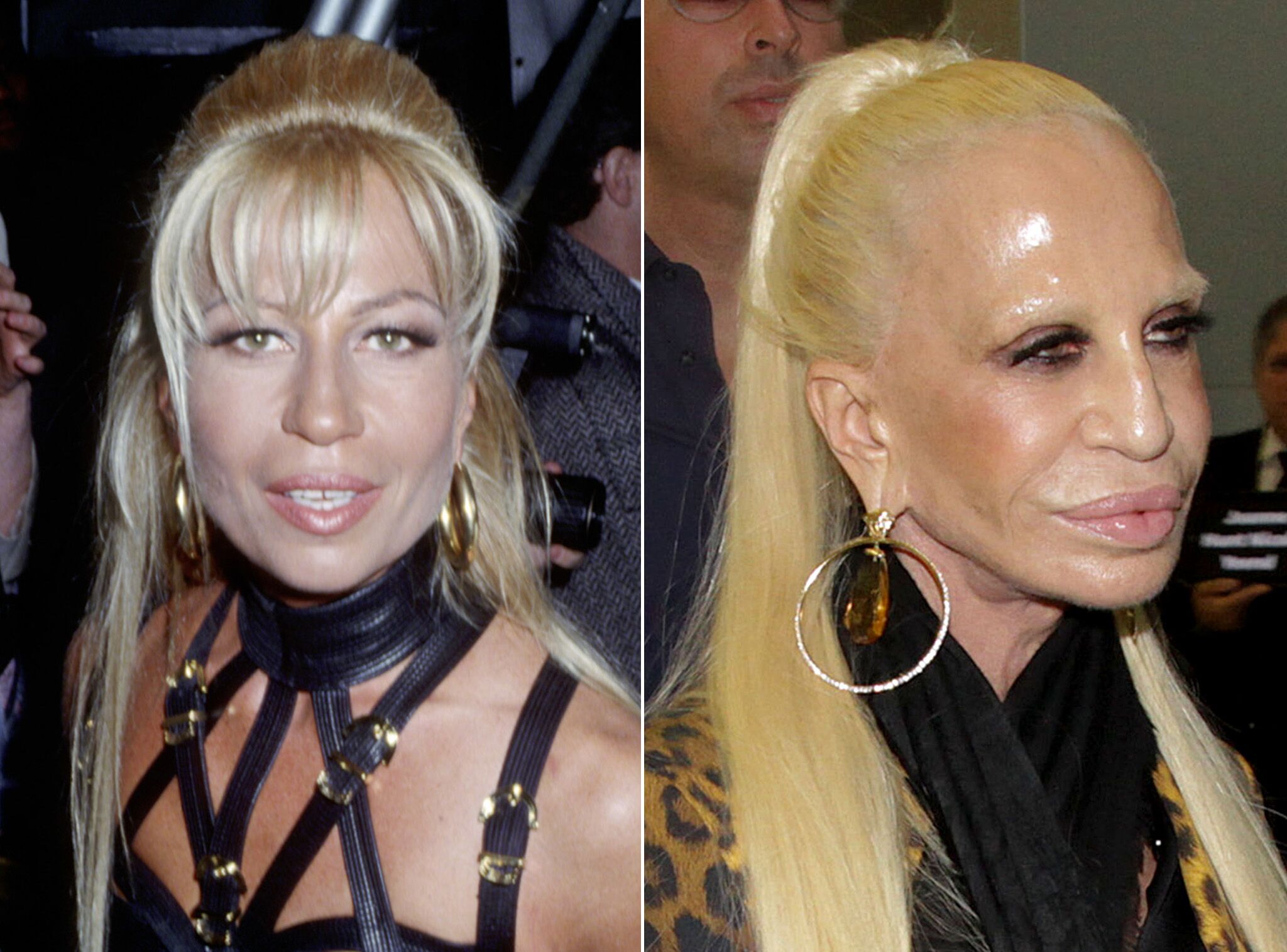 Versace is well known for her obsession over plastic surgery and has spent tons of her money on countless operations that made her almost unrecognizable. Looking back at the days when she was younger, there are barely any facial features left of the face she used to have. Donatella never denied undergoing all those procedures. She has them so frequently that some people claim she has become addicted to them. Showbiz has no mercy for the aging women and it's sad to see to what lengths some of them are ready to go.
5. Priscilla Presley
Known as the one who won the heart of the King of Rock n Roll, Priscilla has always been by Elvis's side. This is how she got in the limelight and caught the public's eye. Being constantly scrutinized is not pleasant and it's hard to maintain the youthful look through all those years.
It is pretty obvious that the actress has done some plastic surgeries, along with a facelift to regain her youth. Although a few minor nips and tucks here and there are not that bad, Priscilla obviously got carried away to the point of becoming almost unrecognizable. She has had rhinoplasty, botox, cheek implants, fillers…well, basically anything you can think of.
6. Lara Flynn Boyle
If you're a David Lynch fan, you must have watched Twin Peaks at least once in your lifetime. A beautiful brunette Donna must have caught your eye – she was played by Ms.Flynn Boyle. Her career ground to a halt at one point and she had everyone wondering what had happened to her in the meantime.
The actress stepped out in 2013 looking like a different person than she did at the start of her career in the '90s. The 46-year-old is seemingly trying to fight the natural aging process with plastic surgery. Though the first procedures didn't look so dramatic at all (she only amplified the volume of her lips a tiny bit), the last few surgeries proved to be a big no-no for this otherwise beautiful woman.
7. Mickey Rourke
Mickey Rourke was a definition of a Hollywood heartthrob – his bad-boy charm and mysteriousness made girls around the world swoon. His boxing career was also moving upward but suddenly, after making some poor acting decisions and embarrassing public appearances, his career path took a downward spiral. Just imagine where he'd be right now if he had agreed to act in Pulp Fiction and The Rain Men?
In his later acting years, Rourke went through a lot of plastic surgeries which completely altered his looks. It's almost impossible to guess that's him in all those pics circulating around the tabloids and news portals. Rourke is now in his 60s and instead of enjoying the years before he retires, he has become a laughing stock to every paparazzi.
8. Pete Burns
If you love to get into the groove with the music of the 80s blasting through the speakers, then you certainly love it when it spins you right round (see what we did there?). Pete Burns was the frontman of the band called Dead or Alive and they made some huge hits during their heyday.
Burns is known for his ever-changing appearance, which he admits has been greatly altered due to numerous plastic surgeries. He had so many of them that he had lost his initial facial features and even started to look like a woman at one point. Unfortunately, Mr. Burns left us on October 24, 2016, after he suffered from a cardiac arrest. Pete left us too soon and we can only imagine what kind of surprise he was up to.
9. Michaela Romanini
Michaela Romanini started making headlines as one of the most beautiful Italian models. She shared her photos over social media accounts and soon became a real socialite. Because her looks made her a household name, she had to take things seriously. She did but she took them too seriously. Ine surgery after another, she soon found herself within the infinite loop of nips and tucks.
Romanini has apparently had some plastic surgery, and the most noticeable one is from her gigantic lips that landed her on the list of worst celebrity plastic surgeries. Just like many other celebrities who took the path of plastic surgery, she soon got addicted to it and one followed the other. Today, she merely looks like a distorted image of her former self.
10. Meg Ryan
Owing to some atrocious lip plumping and Botox, Meg Ryan simply doesn't have that America's-sweetheart look anymore.
Meg was the girl-next-door celebrity we watched in movies such as When Harry Met Sally and City of Angels. This blonde-haired sweetheart was one of the most recognizable faces of Hollywood in the 80s and the 90s but then something happened to her – she disappeared all of a sudden. The audience soon overgrew the rom-com roles they were used to seeing her in and her effort to bounce back went down swinging. We can only guess she was trying to make a comeback with these plastic enhancements but nothing came out enhanced in the end – she doesn't look herself anymore and neither does her career.
11. Tori Spelling
The giant-breasts Tori, an apparent fan of Botox, says she wishes she hadn't gotten her breasts done in her early 20s because the implants have hampered her ability to produce milk. Eww! She doesn't seem to have resisted some facial corrections either, for that matter.
Tori Spelling shone as a star of Beverly Hills, 90210 in her role of Donna Martin but her career soon took a turn for the worse and she never bounced back. She was born with a silver spoon in her mouth and inherited huge amounts of money from her dad but her poor career choices and life decisions soon drained the stashes out. She ended up scraping for roles and making ends meet while also repairing financial damage her husband made through selling real estate. Today, she is making headlines for all the wrong reasons.
12. Jennifer Grey
Jennifer Grey is a good example of how a nose job can dramatically alter one's appearance.
We can't blame you if you don't recognize her! Her career skyrocketed after her role in Dirty Dancing along co-star Patrick Swayze. She never really made peace with her signature nose so she decided to have it done. Unfortunately, that was the worst mistake she could have made. Not only did it kill her uniqueness but it also meant a screeching halt to her career in the making. The actress even admitted she bitterly regrets the nose job and to such an extent she even considered changing her name and starting fresh with her career.
That's a harsh reminder of how the smallest changes to one's physical appearance can make or break a Hollywood career.
13. Lisa Rinna
She had a silicone lip injection in the late '80s, and she continued to undergo lip reduction surgery in 2010.
As she later stated, she really liked the change but it gradually turned into a real nightmare. Unlike today's filler that are only temporary and easily reversible, Rinna had real silicone injected in her upper lip to make it look fuller. Everything went fine at the beginning but as the silicone started seeping through the tissue, it hardened and created lumps that weren't really a sight to behold. Rinna was told there was no remedy for her condition but luckily, she was introduced to one of Hollywood's top surgeons who was able to remove the horrible scar tissue and bring the actress's lips to their initial and natural look.
14. Cher
The Goddess of Pop stole the hearts of Americans with her distinctive voice. Unfortunately, at one point, she had plastic surgery, and then another one, and then a few more, leading to a complete transformation.
Apart from the obvious rhinoplasty (nose reduction), Cher has also had many other tweaks to her looks. Most likely, those involved a neck lift, eye surgery to reduce the wrinkles, and of course, constant filler to revamp and rejuvenate the skin. Let's call spade a spade – no one in their 70s can look so youthful without some nips and tucks in all the right places. In fact, Cher has openly spoken about the procedures and she's not ashamed to admit she simply loves to have them done.
15. Renee Zellweger
Renee Zellweger first caught our eye when she co-starred Tom Cruise in Jerry Maguire. However, her worldwide fame began after the incredibly charming role of Bridget Jones.
When she appeared on the red carpet a few years ago, the world couldn't stop wondering where the old Renee went? The new Renee looked like someone else – her face was obviously tampered with. Botox, fillers, lifting, or maybe the combination of all three?
Do you think this 50-year-old actress has gone under the knife? Well, according to her interviews, she hasn't. Ms. Zelwegger claims that those allegations are ridiculous, to say the least. She has been under constant scrutiny over the past couple of years and the media has been hard on her. In fact, there is no actress whose physical looks have been discussed to such an extent as hers.
16. Paris Hilton
Now here's a mystery. On one hand, we have Paris Hilton who's obviously looking more fabulous than ever despite not getting any younger. On the other, there is Paris who is forever denying having any corrections on her face. Not botox, not fillers, not anything. So, which one is true, in your opinion? Surgery or no?
In reality, this Hollywood socialite claims she takes care of her skin more than anything else in the world. In her interviews, she pointed out that her skincare products are extremely expensive and that all those plastic surgery allegations are nonsense. She says she has been using the same skincare product since she was 8 years old but she also learned to stay away from the sun as it rapidly increases the aging process. That is an advice her mum gave her. Oh, if only we all had moms like that…
17. Courtney Love
We may freely say that Courtney Love was the Queen of Grunge. Not only was she married to Nirvana's frontman Kurt Cobain but she also had her own band Hole. The famous couple Cobain-Love turned to drug abuse soon after their careers took off and their relationship was sort of destructive as well. Love never really rose to Cobain's fame but instead, her downward spiral continued for years to come.
Apart from drug abuse which obviously took a toll on her once glamorous and youthful looks, this 55-year-old musician and actress has gone under the knife quite a few times. The worst part is that she apparently wasn't very lucky with the choice of surgeons. All the work she had done obviously wasn't done professionally and she now looks like a shadow of her former self.
18. Pamela Anderson
Let's be honest here – if it wasn't for her cleavage, Pamela Anderson wouldn't have been the CJ Parker or Barbed Wire we all loved to watch. This Hollywood beauty has been the object of adoration from men around the globe although some of her 'assets' have undoubtedly been tweaked.
The blonde bombshell was never shy to admit she had her boobs done in the past. However, she denies having anything else done on her face and her body by explaining that she actually isn't afraid of aging at all. Although the Baywatch star has always had an amazingly slender figure, we are curious about how she accomplishes the youthful glow of her skin? In all probability, Pam has had some non-invasive cosmetic procedures such as fillers or botox but she probably stayed away from all those knives.
19. Joan Rivers
We all loved Joan's sneaky comments while we watched her as one of the members of the Fashion Police show. Joan has never been shy to admit she just loved amping up her looks through multiple procedures. Her humor and wittiness have always been consistent but we can't say the same for her physical appearance.
If you remember Joan from several decades ago, you'll certainly be able to spot the drastic differences in her facial features. She had her first surgery when she was 41 and she hasn't stopped since despite her closest family warning her against that. Rivers was determined to have them done every time because she firmly believed that it was necessary if you're in the entertainment business. Joan Rivers passed away in 2014 after her throat surgery went bad. She will always be remembered as an outspoken icon of glamour and wit.
20. Sharon Osbourne
Sharon Osbourne, the wife of the iconic metal musician Ozzy Osbourne of Black Sabbath, apparently has it all. On a closer look, she does seem to lack one thing – self-confidence. Sharon has had so many plastic surgeries and her latest public appearances have shocked the public. Everyone's afraid that she may have gone too far this time.
Back in 2013 when she published her memoirs, she pledged never to go under the knife again. It wasn't long before she broke the promise. She reappeared looking swollen and it became clear that she had a dramatic facelift going on recently. Sharon has had every surgery you can think of – from breast implants to breast reduction, liposuction, eyelid surgery, fillers, and botox. It might be a good idea for her to stop at this point because she will seriously jeopardize her health.
21. Wayne Newton
Wayne Newton earned his worldwide fame through his singing career. He made his rags-to-riches story by starting off in local TV shows until he caught the eye of a booking agent. After he had published his first Album, the remaining 30 followed every year since. Newton also made a few movie appearances, including The Hangover and Ocean's Eleven.
Although it's women in showbiz that usually go under the knife to look younger or prettier, Wayne Newton also made it to the list alongside previously mentioned Hollywood men. When Newton appeared on The Bachelorette show, the comments were only about him and his looks. All things considered, Newton has had quite a few interventions although he never explicitly stated which ones.